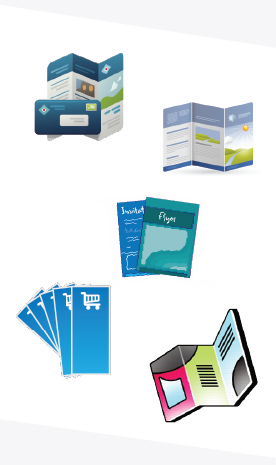 Flyers advertising is one of the most popular types of advertising and with its flexibility and high success rate it's not difficult to see why.  When designed and distributed correctly flyers are the most effective type of offline advertisement.  Whether you're advertising a small or large business, a new product or service, or a promotional offer, flyers advertising is an unbeatable way of promoting your business to a mass audience.
Flyers advertising provide a great platform to promote your campaign and reach your audience in many ways including door to door mail drop, newspaper insertion, hand to hand distribution, admail distribution, direct mail, e-flyers and etc.
These are the benefits of using flyers advertising to promote your business:
Cost effective - Flyers are relatively cheap to produce and distribute considering the high impact that they make and the number of people that they have the potential to reach.  Flyers advertising are much cheaper than many other forms of advertising and are capable of reaching a lot more people than a lot of other forms of advertisement.
Targeted advertising - With flyers advertising it is possible to target people.  It is particularly good for local businesses as it is a simple way of targeting local people with promotional information.  When your flyers deliver to one home your advertisement has the potential to reach each person that resides at that address not just one person.
Endless creative possibilities - There is no limit to the creativity that you can put into the design, layout and message that your flyers delivers.  It is down to you how interesting you make your flyers and how attention-grabbing you make the design.  You also have the option to design your flyers in a number of different layouts including single-side flyers, double-sided flyers, pamphlet and brochure.
Can hold a lot of information - Compared to other forms of advertising, flyers can hold a lot of information.  Also there is no time limit on the people receiving the flyers to look at the information, the information on the flyers can be digested in your own time and at your own pace meaning that there is more chance of people taking in the information.
High impact - Flyers advertising is a high impact form of advertising.  They are delivered directly to your target market's homes.  They are also capable of immediately and clearly displaying a message to your audience.
Incentives - Flyers advertising also provides you with the space to include incentives such as coupon codes and vouchers. This is a great way to try and drum up some interest in your event and also create some early awareness. Use your flyers as an incentive mechanism by providing discount to the first 20 people who use a certain coupon code.
Measurable - Coupon codes can often be a great way of measuring how successful your marketing campaign has been. Use your flyer as a measurement tool to establish how successful your campaign was and what you can learn for the future. Adding flyer numbers, custom URL's and QR codes can allow you to monitor how successful your flyers advertising campaign has been.
If you are looking for the flyers advertising solutions in Kedah, we could be the one you have been looking for. Here at Flyers Media we pride ourselves on the fact that our flyers are quick and easy to produce, and our print and distribution services make us a one-stop shop for your flyers advertising campaign. More and more businesses are now choosing flyers advertising as an effective method to engage with people in the comfort of their own homes. If you want to reduce the spending of your marketing and see great results then flyers advertising will no doubt benefit you.
When you approach a flyers advertising campaign it is important to consider the areas you want to cover; the products you want to cover and whether it is the right time of the year for these products to be promoted; also keep your target audience in mind. 
We offer our clients a comprehensive range of flyers advertising solutions including door to door flyers distribution, admail distribution, direct mail, e-flyers (whatsapp advertising) and newspaper insertion service in Kedah, our coverage areas including:
Alor Setar
Ayer Hitam
Baling
Bandar Baharu
Bedong
Bukit Kayu Hitam
Changloon
Gurun
Jeniang

Jitra
Karangan
Kepala Batas
Kodiang
Kota Kuala Muda
Kota Sarang
Semut
Kuala Kedah
Kuala Ketil

Kuala Nerang
Kuala Pegang
Kulim
Kupang
Langgar
Langkawi
Lunas
Merbok
Padang Serai

Pendang
Pokok Sena
Serdang
Sik
Simpang Empat
Sungai Petani
If you would like to discuss flyers advertising further, please do not hesitate to get in touch with us today, we are more than happy to discuss your strategy. Over the years, we've had many happy customers, when you choose one of our marketing solutions you can feel confident that we will give 100% for your campaign. For more information on our services and to learn how we can help you, contact us today.
flyers advertising Kedah, Alor Setar | newspaper insertion Kedah, Alor Setar | flyers distribution Kedah, Alor Setar | admail distribution Kedah, Alor Setar | direct mail Kedah, Alor Setar | whatsapp advertising Kedah, Alor Setar | e-flyers Kedah, Alor Setar