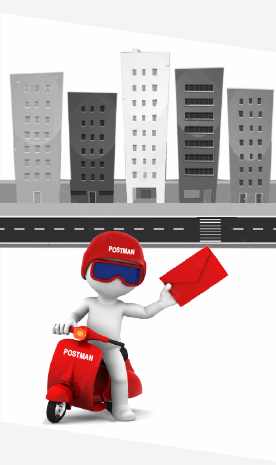 Condo-Mail, a newly formed marketing approach inspired from AdMail is solely targeted to high rise residential which is condominium and apartment in Malaysia. The origin, AdMail known as advertising mail is conducted by the postmen during their daily mail-delivery. It is one of the cost-effective marketing solutions which distribute the advertising flyers, brochures to households and offices in Malaysia.
In the second and third quarter of year 2016, National Property Information Centre (NAPIC) reported there are total 2,560 condominium/apartment transactions which occupied 47 % of all the property transaction located in Central Region of Malaysia. In addition, there are currently total 37,824 luxury condominium units in Kuala Lumpur as end 2016. This indicates a new market awaiting you. But since the high rise residential community is usually gated and guarded, how to deliver your messages to those live inside? Here is the solution: Condo-Mail shall be your best choice as the postman is the one and only one "stranger" who gets access to the area.
Now, with Condo-Mail, you will be able to advertise your sales, promotions and offers to those residents who possess high spending rate in Malaysia.
Why Condo-Mail Distribution?
Extend your reach - Due to the security restriction, common mail drop service didn't cover condominium and apartment. With this service, it will be an opportunity to explore a new market and acquire new customer.
Maximize the marketing ROI - high spending rate customers are aimed. As stated in a paper in 11th International Conference of the Asian Planning School Association (APSA), it is common that gated and guarded communities are usually residents by high income people.
Enhance messages retention - according to a research conducted by TGI Kantar Media in 2014, there are 80 % of 12,398 respondents who still remember the content of the mail for four weeks
Non-intrusive and interacting marketing approach - target audience can read the marketing messages whenever they are free and convenient
Trigger action - messages response rate is higher as the residents tend to inclined to the promotion and offers sent
Get personal - deliver messages designed to specific potential customers based on the geography and demographic
Longevity - mail can linger around the house for days unlike email which can be erased just by a click.
Increase the engagement - the mail is being passed among receivers' circle of influence
Reliable and secured service - direct delivery to the post box

Condo Mail Distribution Malaysia | Condo Mail Drop Malaysia | Condo Letterbox Flyers Distribution Malaysia | Condo Mail Distribution Kuala Lumpur | Condo Mail Distribution Selangor | Condo Mail Distribution Klang Valley | Distribute flyers to condo in Malaysia | Distribute flyers to apartment in Malaysia